Olivia Ledbetter's Story
Not even two pounds at birth, today her smile just lights up a room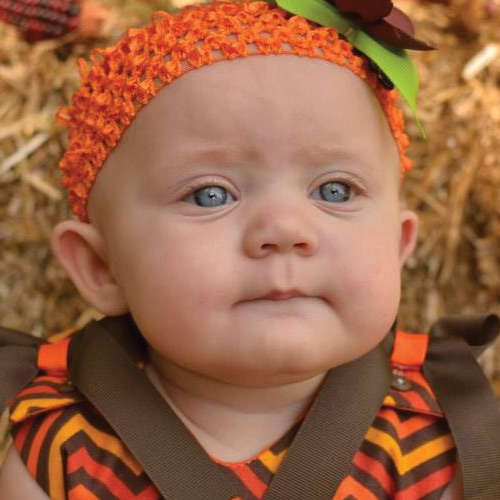 At 26 weeks of pregnancy, Beth Ledbetter was suffering from high blood pressure and growing sicker and sicker. When her kidneys began to fail, her doctors decided it was time to deliver. Little Olivia Ledbetter was born 13 weeks early weighing one pound, nine ounces.
"I heard Olivia's tiny cry," Beth remembers. "But I didn't get to hold her as she was whisked off to be put on a ventilator. My condition wasn't improving either, and my husband Greg was afraid he was going to lose both of us."
Eventually, Beth began to recover, and things seemed hopeful for Olivia, too, until she went into cardiac arrest on her second day. Doctors got her heart pumping again, but it was clear she had a very long way to go. It was touch and go for many weeks as Olivia had heart surgery and several other procedures. Gradually, she began to show signs of improvement.
"Olivia was such a strong little fighter," Beth says.
Like all premature babies, Olivia needed a quiet, calm environment. Her vital signs would change at the slightest noise or activity. That's why the Baptist Neonatal Intensive Care Unit placed her in a Giraffe OmniBed®. Both an incubator and a carestation, the special bed features a built-in scale and controls for temperature, light, sound, and other stresses. It created a warm, safe place for Olivia to heal and grow, and where skilled and caring neonatologists and nurses could closely monitor her.
Today, Olivia is a healthy young girl who simply lights up the room with her smile. She will not remember those first 106 days of life spent at the Baptist NICU, but her parents will certainly never forget.
"I am convinced there is no better place than Baptist," said Beth. "The staff there became my closest friends. They saved my baby, along with God's help. While she was in the Giraffe bed, I knew she was in a well-monitored, protected place. It allowed me to watch my baby get stronger and grow – like watching a caterpillar grow into a beautiful butterfly. And Olivia is truly beautiful."
The Giraffe Omnibed® will play a crucial role in helping many more newborns, and Mississippi Baptist Medical Center needs to add more of them to care for the "tiniest patients" in our Level III NICU. Today, you can make a positive difference for the babies and their families, and share in their courageous fight for life.
"I hope everyone who hears the calling gives to the Baptist Health Foundation to help the doctors and nurses of Baptist NICU continue their amazing work," says Beth. "I can't say enough about the wonderful, loving care at Baptist. They genuinely cared for Olivia, for Greg, for me and our other family members. We love them all, everyone, at every level of care."
Your gift to Baptist Health Foundation will help us add more Giraffe OmniBeds® and support other programs that continue to make Mississippi Baptist Health Systems a leader in health care, follower in faith.