Kara Owen's Story
New Mom Shares Her Family's NICU Experience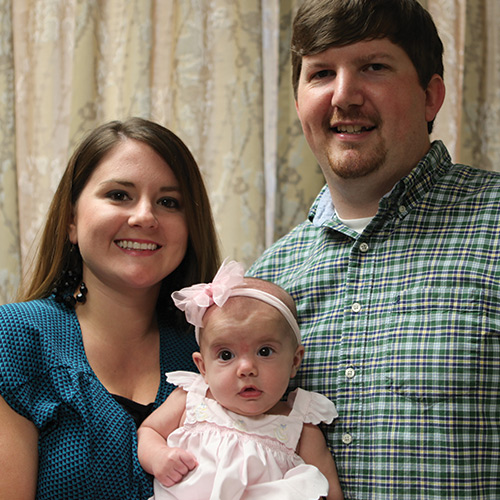 Few things in life match the excitement of a young couple expecting their first child, and Kara Owen was thrilled.
But just 18 weeks into her pregnancy, a routine sonogram revealed a suspicious spot that called for more testing. As it turned out, tests confirmed her unborn child had gastroschisis – a birth defect which causes the child's intestines to protrude to the outside of the body through a hole in the abdomen. Still, Kara's doctors agreed that it would be best for both mother and child for Kara to carry her baby to term.
At 36 weeks, Kara's obstetrician put her on bed rest. Two weeks later, she went into labor and delivered her newborn by emergency C-section.
Shortly after little Mollie's arrival, a pediatric surgeon successfully performed surgery to repair the gastroschisis. After 19 days of recovery, Mollie made a smooth transition home and, today, she is a healthy girl with only the tiniest hint of a scar.
"There was a lot of anxiety because there were so many stages of recovery Mollie had to achieve," Kara said. "The care we received at Baptist was wonderful. I would highly recommend Baptist Health Systems to anyone. The doctors, nurses, and entire NICU experience was incredible. Not only did the staff want to make sure Mollie was doing well, they were genuinely concerned about our family as a whole."
Now, when Kara recalls the day she took Mollie home, she laughs.
"Our first night home was a blend of excitement and sheer chaos," she said. "But to this day we are very, very grateful for the service and care we received at Baptist, and we're so thankful Mollie is doing well."
The NICU at the Birthplace at Baptist provides comprehensive care for newborns when every second counts, in a family-centered environment. Your support of the Baptist Health Foundation can help ensure that babies and their new parents received the advanced care, technology, tools and support they need.