Mary Jane Finney's Story
A Cancer Survivor Finds Her Stable Place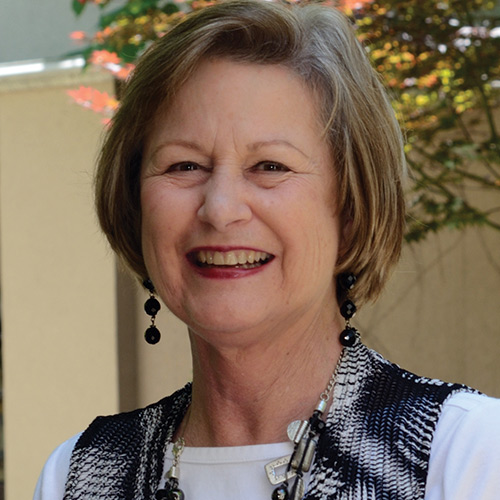 Mary Jane Finney's challenging journey with cancer began more than 25 years ago.
"It started as a thickening in my breast and most doctors showed little concern about it," she recalled. "At the time I was working in Columbia, South Carolina, and after about a year, I went to another doctor. Though mammography did not indicate a problem, this doctor suggested a biopsy. To everyone's surprise, it came back malignant. I was devastated."
Because of the type cancer it was, Mary Jane opted for a mastectomy and returned to her family's home in Gadsden, Alabama, to recuperate. Shortly after she recovered, she moved to Jackson, Mississippi, where her younger sister and her family lived.
"I had plans to earn my master's degree in family counseling at Reformed Theological Seminary," she said.
Several years later, after receiving her degree, Mary Jane established a counseling practice in Jackson.
"I enjoyed my practice, my church, and my sister's sweet, growing family. My life was very fulfilling," she said.
However, during a 1992 check-up, a CT scan revealed lesions in both of her lungs. A biopsy resulted in a diagnosis of metastatic breast cancer.
"After seeking medical advice from several physicians, I chose to treat it with Tamoxifen," she said. "After three years of treatment, there was no trace of the lesions. It was a miracle."
Once more, Mary Jane returned to her busy lifestyle only to be interrupted, again, by the results of a "routine" check-up. This time, a malignant tumor was discovered on her right adrenal gland.
"Again, I set out on my thorough pursuit of possible therapies and, ultimately, decided on a very aggressive treatment which did successfully attack the cancer," she said.
"However, it also caused a blood disorder that prompted my kidneys to fail, and I had to undergo many additional treatments including dialysis. Finally, after two years of reversing the blood disorder, my kidney function improved enough that I was able to get off dialysis."
Considering her remarkable experiences with cancer and a serious blood disorder, and because of her recognizable faith and relentlessly resilient attitude in the midst of all these challenges, friends told her she should write a book about her ordeals to encourage and give hope to others. Mary Jane took their advice and published A Stable Place.
"When I asked my doctor if I was 'well,' she told me I was 'stable,'" she explained. "As a lover of horses, that word took on a special meaning to me. A stable is a place of safety for horses, and that's what cancer patients look for throughout their treatment – a place of safety."
Mary Jane says she is enormously grateful for the wonderful care she received at Baptist, and for the support of her friends and family, and her faith.
"Because Baptist Health Systems had all the services I required, and some were complicated, I was able to have all my treatments here in Jackson, so close to home and those who helped and encouraged me," she said. "That's why I support the Baptist Health Foundation, because there are so many here in our communities that need that level of care and comfort, that safe place – that stable place."