Turning a House into a Home
Trustmark and Baptist Health Systems Bring New Life to Midtown Home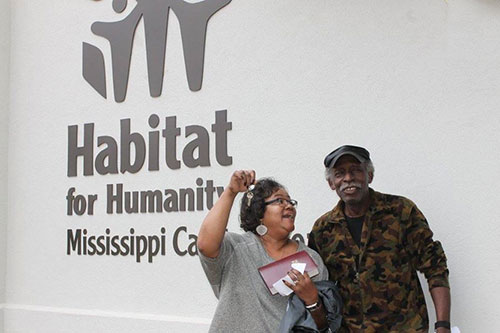 Sherry and James Thomas had been living in an apartment complex and were in need of affordable housing. James worked for a trucking company and is on the road for days at a time all over the country and Sherry needed a safe place to call home. So some employees from Baptist Health Systems and Trustmark Bank teamed up to make the Thomases' dreams of owning a home come true.
The team of Trustmark and Baptist employees volunteered their time and talents for an entire week to rehab a home in Midtown Jackson with the help of Habitat for Humanity. After a full week hammering, sawing, nailing and painting, the Trustmark/Baptist rehabilitation project was complete and a newly refurbished home was waiting for Sherry and James.
As fate would have it, the Thomases' new home was in the very same Midtown neighborhood that James grew up in. And when they moved in, they were surprised to learn their new neighbors happened to be their niece's mother-in-law. The Thomases feel as if they got a new start with a "new" home, and they are thrilled to have a place they can call their own.
Baptist's mission to improve the lives of the people in our community extends well beyond the hospital walls, and our employees log thousands of hours of volunteerism every year. Combine that with your support of the Baptist Health Foundation and its support of other local charities, like Habitat for Humanity, you can clearly see how your contribution can help make life better for all of us.