Carol Kossman's Story
A Breast Cancer Survivor Continues to Ride High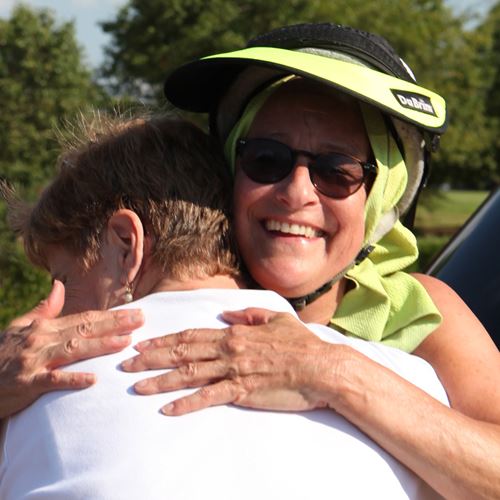 In spring 2008, Carol Kossman, a Madison physician, had her annual screening mammogram and was diagnosed with early stage breast cancer.
"For the first time in my life, I thought of my own mortality and I learned to appreciate each day that God gave me," said Carol, who lost her brother Chester to cancer in 2007.
Carol had surgery and underwent radiation therapy at Baptist Cancer Services. During her treatment at Baptist, she saw signs promoting the Cyclists Curing Cancer Century Ride, a cycling event that raises money to help maintain the Serenity Garden at Baptist's Hederman Cancer Center. She vowed to participate in the event as soon as she was able.
That day came six years after Carol beat cancer, when she arrived in Clinton, Miss., to participate in the annual Cyclists Curing Cancer Century Ride. She had decided beforehand that she would ride 62 miles that day, although her goal was to one day complete the full 100 miles. With the blast of an air horn, her ride along the scenic Natchez Trace began.
Carol rode her three-wheeled adult recumbent cycle with ease that morning. The weather was beautiful, the course was relatively flat, and around mile 20, she thought to herself, "Is today the day? Can I ride the full 100 miles?" By the time she got to mile 30, all the other cyclists had left Carol far behind. A self-proclaimed slow rider, she was alone on the course now with the exception of the Salvation Army Truck that provided water and protection from traffic. But when she reached the 31-mile mark, what would have been her turn-around point, she decided to ride her "endorphin high" and just keep going.
And she was glad she did. The course led her through the quaint Mississippi towns of Rocky Springs and Port Gibson, where she found Baptist's radiation oncology staff working two of the rest stops.
"It was very inspiring and encouraging to see them there," recalled Carol, who said her experience of the Radiation Oncology Department convinced her it was "the most efficient medical facility she'd ever been involved with."
By 3:30 p.m., seven hours after the ride began, all of the other riders had crossed the finish line. Knowing she was the final rider on the course, Carol was even more determined to complete the journey.
"I felt so grateful, and a bit guilty, that the volunteers were keeping the rest stops open just for me," she said.
Finally, after eight hours of cycling, she came to her last hill on Clinton Parkway one block from the finish line. What she found just over the hill was the highlight of her entire day.
"About ten people in bright purple shirts were screaming and cheering for me," she said. And the Salvation Army truck joined in the cheering as Carol pedaled those last few yards into the Baptist Healthplex parking lot.
Carol had reached her goal of cycling 100 miles, and the fact that she did it in a ride that supports cancer patients made it that much sweeter. Carol acknowledges that without a routine annual mammogram in 2008, she might not have been riding at all on that beautiful Saturday six years later.
Although Carol has participated in other rides across the Southeast since then, she says that Cyclists Curing Cancer has come to mean more to her than most others. And with the support of 225 cyclists, 42 event sponsors and 70 volunteers, that year's Ride raised almost $40,000 that would have a meaningful impact on cancer patients and their families.