Helping Kids Stay Active and Healthy
Track and Field Star Rebecca Alexander Visits Morton Elementary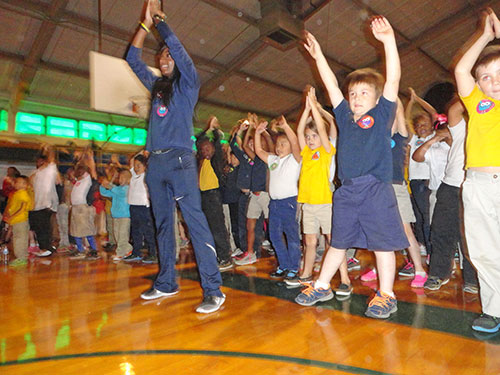 Mississippi students are getting a lot more active these days thanks to a sponsorship of GoNoodle by Baptist Health Foundation. GoNoodle is an interactive resource designed to get kids up and moving during the school day. Childhood obesity is still the leading health issue affecting kids, and many kids fall well below the recommended 60 minutes of daily physical activity. Research has proven the benefits physical activity on learning, so Baptist Health Systems teamed up with Jackson area schools and the faculty at Morton Elementary School to get our kids moving.
And the response was almost immediate. In fact, Morton Elementary won a contest by generating over 88,382 minutes of physical activity from over 1,129 physical activity breaks in the classroom in one month. To reward the students and teachers at Morton Elementary for their amazing accomplishment, USA Track and Field champion Rebecca Alexander visited the school and joined students as they played GoNoodle during a school-wide assembly.
GoNoodle brings a series of interactive physical activity games and breaks right into the classroom. Each physical activity game of GoNoodle is designed to provide students 3-5 minutes of moderate to vigorous physical activity right next to their desks. Research proves that such short bursts of physical activity have positive health benefits and improve student engagement, behavior and achievement. With Baptist Health Foundation's help, one hundred percent of Morton Elementary teachers used GoNoodle in their classrooms.
One of the GoNoodle physical activity breaks, "Run With US!", features Olympians and Olympic caliber athletes leading students in virtual track and field events designed in collaboration with the USA Track and Field Foundation. Rebecca Alexander led "Run With US!" activities at the Morton Elementary school-wide assembly.
"I am very happy to be a part of what GoNoodle is doing to help combat childhood obesity in Mississippi," said the collegiate and international gold medal winner. "Movement in the classroom is very important for keeping students engaged and focused, all while incorporating exercise in the school day. Fitness, obviously, has played a huge role in my life. It has allowed me to develop real-world life skills that I have applied to all areas of my life, and I am so happy and excited to share my passion and experiences with the students at Morton Elementary."
Your gift to Baptist Health Foundation can help us extend our ability to provide health education throughout Central Mississippi and get more Mississippians living healthier lives.
In addition to the track and field game, GoNoodle includes dancing, stretching, and even calming exercises, along with games that incorporate spelling, vocabulary and math with physical activity. Teachers can learn more about GoNoodle by visiting www.gonoodle.com.
About GoNoodle
GoNoodle is an online resource for elementary teachers to enhance student engagement and youth health through physical activity breaks. Helping to increase energy and focus while improving classroom behavior, GoNoodle's activities can be played on an interactive whiteboard, projector or computer screen. Since its launch in August 2013, over 5 million kids have played GoNoodle physical activity break.